"We began with a demountable building, and a steel rack in the yard". This is the Sapphire City Steel & Pipe story.
Beginnings
My Dad, the chief engineer at the abattoirs, saw the need for a steel shop in Inverell. There was only a tube maker shop here in those days. I had trained as a fitter and machinist with the railways in Newcastle. At the time, I couldn't see a future in the path I had chosen. My application to transfer to Werris Creek was stalled and I was just busting to get out of the Big Smoke.
Seeing the potential, and knowing my situation, Dad called me up, "Son, do you want to come home and have a crack at running a steel shop?" The year was 1986. When the truck arrived with our first 17 tonne of steel, I borrowed a forklift from up the road at M&S Moses to unload and then stacked the lot in the rack by hand. Learning about selling steel was all new to me, but I jumped in the deep end, paddled like billy-o and we made it to the other end.
Healthy Competition
From the outset, Sapphire City Steel & Pipe was established on service, being here for people, being open on Saturday mornings and being willing to take deliveries far and wide. Nine months after we opened, the tube maker business in town closed their doors. They closed on Friday, and MI Steel opened the following Monday. We had it all on our own for just one Saturday. It's never been an easy road, but competition is a good thing. We bought all the stock from the tube makers, employed one of their staff, and dug deep to get our business established.
Building
After about 18 months, we built the Sapphire City Steel & Pipe shed as a 2-bay shed, gradually adding to it over time as we could. Loyal and qualified staff joined the business to meet the demand. My wife was my offsider in the beginning, before our children came along. We would do our deliveries in a Holden 1-ton ute. Even though some outspoken locals told us to our faces that we could never compete and our business wouldn't last, we kept growing, taking hold of opportunities and evolving to provide quality steel products to the Inverell community. We finally purchased a truck in 1990 and now that we had the capacity to do multiple deliveries, business began to kick along nicely. It was good times. No longer hindered by the small size of the ute, we would load up the truck the night before, roll out of bed at 3am and have the delivery on someone's doorstep by 7 or 8 in the morning.
Adding On
We always sought to value add to the Sapphire City Steel business. Back in the early days, in our spare time, we enjoyed building items to sell including gates, cattle panels, cattle yard gates, post drivers, cattle grids, and the like. Sapphire City Engineering evolved due to customer demand. We embraced the opportunity to custom-make steel products on a larger scale. This was something I had always had an interest in and frankly the part of the business I enjoy the most. It's my passion to design and I always aim to improve our existing product lines.
Employing the Best
It doesn't take long to learn the steel game if you are a bit keen. Sapphire City Steel & Pipe base our operations on loyal and skilled workers. While finding skilled staff is difficult, we make sure to search far and wide to locate them. We train up boilermakers from apprentice positions with the hope of keeping them at the other end. It's all about a bit extra, and experience counts. Our staff go the extra mile whether it's in searching for the exact part you need or offering excellent service.
Keeping Up With the Times
We have three trucks now, mainly due to the legal side of things. The truck needs to be bigger and bigger in order to meet OH&S requirements to deliver steel in 8 and 9 metre lengths. The crane on this truck makes loading and unloading safe and easy. Like everything else, the steel game has changed dramatically in such a short time. Imported steel has changed the way that steel is priced and the quality just isn't there, as any welder will tell you. The steel may look the same, feel the same, but rolling dimensions aren't as good as Australian steel and when you start fabricating with imported steel, it doesn't take long to realise it's inferior.
Why Choose Sapphire City Steel & Pipe?
Integral to Sapphire City Steel & Pipe is our mandate to deliver quality steel to the Inverell district along with product expertise. Our highest ideal is to meet the needs of our customers. We presently deliver to a 150km radius plus occasional deliveries further afield. A wide variety of materials truck out to the district, from domestic fencing to house building to commercial sheds.
It's the name you can rely on in Inverell. Contact Us for your next project in steel.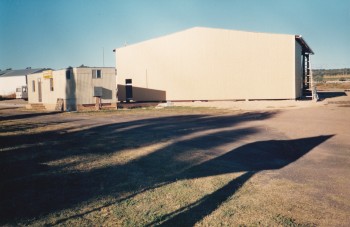 87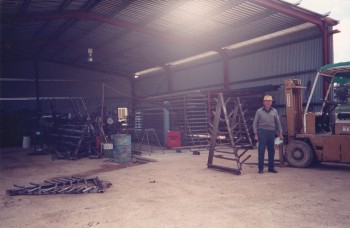 Les 88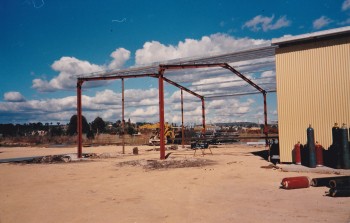 88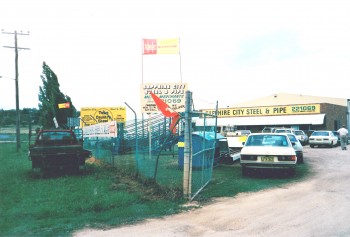 89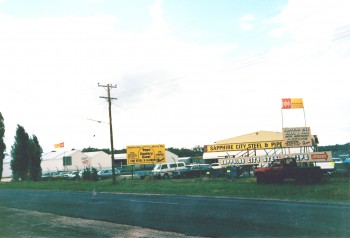 89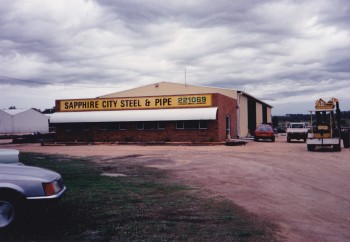 89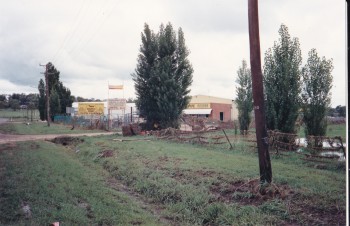 91 Floods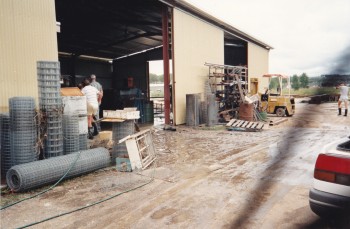 91 Floods